Automation has long been a key part of the IT service management (ITSM) tool success story – enabling IT support teams in particular to improve both their efficiency and effectiveness of operations. Speeding up work, and the associated resolutions and provisioning, while also reducing costs. This improved efficiency and effectiveness can be considered the first two Es. More recently, however, there has been a growing interest in, and focus on, the delivered employee experience – a third "E" to now add to efficiency and effectiveness. It's in part due to the growing expectations of employees relative to the service, support, and customer service they receive from their workplace IT service provider – your IT organization. This blog looks at the need for delivering a better employee experience, along with talking to "the how" which includes automation and artificial intelligence (AI)-enabled capabilities.
The Impact of B2C CX on Employee Perceptions of IT
IT organizations, and their support teams in particular, have spent the last decade operating under the mantra of "doing more with less." It made sense after the 2008 financial crash, with many organizations at least limiting what they spend on IT support. However, in 2019, this has morphed into a new mantra – that of "better, faster, cheaper" – with cost reduction no longer the primary driver for support improvements (or other change). Quality and business value are now key, and there's thus likely a need to close the gap between how well IT organizations think they're "doing" (and what they report in monthly performance reports) and employee perceptions of how well they're doing. Especially when employee expectations are being buoyed by their personal-life, consumer-world service and support experiences. Why? Because their business-to-consumer (B2C) company experiences are continually improving thanks to company investments in customer experience (CX)-improving strategies to win, retain, and grow customers; and they are then bringing these higher expectations into the workplace thanks to "consumerization." Consumerization is So Much More Than the "Consumerization of IT" While the need for a better employee experience makes sense at a business level – given that employees that can't work productively might be adversely affecting business operations and outcomes – it's important to understand another driver for employee experience, "consumerization." The term "consumerization of IT" was first coined in 2005, with it taking half-a-decade for concerns related to bring-your-own-device (BYOD) and "shadow IT" to finally hit home with corporate IT organizations (and then another half-a-decade for the ITSM industry to hopefully address and move on from them). However, the consumerization of IT is only part of the challenge for corporate IT service providers – with employees not only expecting corporate devices, apps, and cloud services to match their personal life experiences. They also have higher expectations of the "service wrap" that goes around them too – including support and customer service. This consumerization has very much been a stepping stone for the next stage in the evolution of IT support – better meeting employee expectations.
The Growing Importance of Employee Experience
If you like to stay abreast of how things are changing in the world IT support, then both HDI in the US and the Service Desk Institute (SDI) in the UK (and now other regions) are both good sources of industry statistics. Two such good statistics related to the growing importance of employee experience are shown below. The first is an SDI statistic, which shows how important employee experience is relative to other key aspects of IT support (please note that both SDI and HDI view end users as the customers of IT support and thus talk in terms of customer experience rather than employee experience). Here, the focus on employee experience is far higher than on cost per call (on the right) – and not only is employee experience by far the first choice of the available options at 53%, it's also the top-ranking choice in total for the top-3 picks – at 85% of survey respondents. "Please rank in terms of importance to the service desk"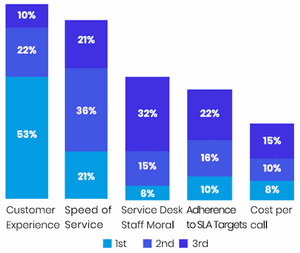 Source: SDI, "Customer Experience in ITSM" (2018) Then, the following HDI chart shows that improving the employee experience is the top factor in motivating new ITSM technology implementations and upgrades, at 71%.
Key factors motivating new technology implementations/upgrades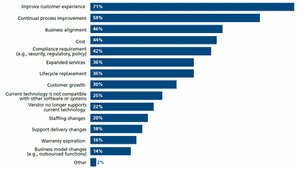 Source: HDI, "Practices and Salary Report" (2018) There are, of course, many similar charts or statistics that could be pointed to when calling out the growing importance of employee experience – but hopefully, the above two are sufficient to demonstrate that the industry is at least "talking the talk" when it comes to employee experience.
How Automation and AI Improve Employee Experience
Improving employee experience is not something that starts with better technology, but technology does play a big part in its delivery. There are many things that need to come before the technology use. From the vision and/or objective(s) related to improving employee experience (which could be driven by knowing that it will improve business outcomes, by a mandate to do so from above, or something else) to knowing what positively or negatively affects employee experience – which is something that needs to be ascertained from the employees being supported. This is covered in this "5 Tips for Better IT Service Desk Metrics" blog. The factors that are likely to be highlighted (but please ascertain those for your business colleagues) might include something like:

Source: HappySignals Then when the potential options – to either mitigate the top reasons for dissatisfaction or to build on the top reasons for satisfaction – are considered, both automation and increasingly AI will likely be key facilitators in not only upping the levels of efficiency and effectiveness but also in better delivering against rising business and employee needs. Whether this is due to the increase in speed – which could be the immediacy of resolution or provisioning through chatbots – as well as faster process flows. Plus, there's another point to consider related to consumerization – that employee expectations will not only factor in how they were treated (as customers) and the speed of service, there will also be an expectation of matching the aforementioned B2C capabilities. Automation and AI will be expected – even if "hidden behind the curtain" – when it comes to the available service and support channels and capabilities. So, when you're looking to improve your IT service desk delivery and support, don't just look at the traditional Es of efficiency and (process) effectiveness – also look to employee experience, including how automation and AI will help across this and the other two Es.