ITIL 4 – the latest version of the popular IT service management (ITSM) best practice framework – was published at the end of February 2019 or at least the Foundation Edition book was. There's more to come in terms of best practice guidance, with the "higher-level" ITIL 4 publications and exams being released later in 2019, but it's still worth taking the time to understand and reflect upon the effect that ITIL 4 has on traditional IT support best practice. This starts by understanding some of the key changes with ITIL 4 (versus the ITIL v3 2011 Edition).
The key changes in ITIL 4
The first thing to convey is that ITIL 4 has changed far more than people thought it would, with the key changes being that:
ITIL 4 refers to service management more than it does ITSM (reflecting ITIL's use cases outside of IT)
There's a focus on "the co-creation of value" and the ITIL service value system (SVS) as shown below:
Within the SVS:
ITIL Practitioner's guiding principles have been added in (albeit in an amended form)
The ITIL v3 processes have changed to ITIL 4 management practices
ITIL v3's continual service improvement (CSI) is now called "continual improvement" to reflect the fact that improvement activities should be focused on more than just services – for instance, on the improvement of operational performance too
The ITIL service value chain (shown below) at its center is the route to value co-creation.
The ITIL Service Value System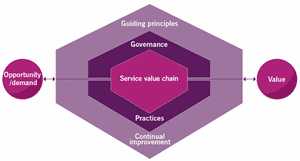 Source: AXELOS, "ITIL Foundation, ITIL 4 Edition" (2019) The ITIL 4 Service Value Chain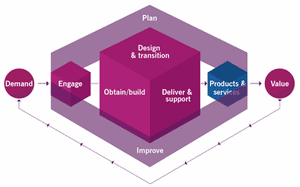 Source: AXELOS, "ITIL Foundation, ITIL 4 Edition" (2019) That's a brief overview of what has changed in ITIL's "structure" and more details can be found in more focused blogs such as "It's Here – ITIL 4 Explained."
So, how does ITIL 4 affect IT support best practice?
This can be viewed on several levels. Firstly, the impact of the above high-level changes, in particular that:
Value creation (or co-creation) should be driving IT support activities. Ideally, minimizing suboptimal thinking and behaviors. For instance, eliminating cost reduction strategies that benefit IT support operations but have a larger negative effect at a business level (because support now delays remediation, incurring additional business-level costs).
The seven ITIL guiding principles are as applicable to IT support as much as any other ITSM capability. These include:
Focus on value – as in the above bullet
Start where you are – in terms of improving your IT support
Progress iteratively with feedback – again in terms of improving. For example, applying a series of small improvements or changes, perhaps in an experimental way, that push a particular way of working forward. Seeking feedback before, during, and after each iteration to help ensure that the changes are delivering the right results, and course correcting as necessary.
Collaborate and promote visibility – the IT service desk benefits immensely from strong relationships with customers, other IT teams, and third parties
Think and work holistically – never forgetting the bigger picture, such as IT support really being about helping people to work and not about their technology issues
Keep it simple and practical – in process terms, a good example is not overengineering something such that it's easier to circumvent the process than to follow it
Optimize and automate – with automation and artificial intelligence (AI)-enabled capabilities offering great scope to improve upon manually-intensive IT support activities.
Everything "activity-wise" is now a management practice rather than a process – this includes the service desk being a practice rather than a function as it was with ITIL v3. It's a much-needed change to help elevate IT support from a focus on processes (and potentially outputs) to aiming for better outcomes. Then secondly, there are changes at a lower level. For instance, in terms of the changes to IT support relevant practices (or processes as were). IT support affecting process/practice changes ITIL 4 offers up 34 management practices – some are old, some new, and some changed. The most relevant management practices for IT support are:
Service desk – with the ITIL 4 Foundation book stating that "The purpose of the service desk practice is to capture demand for incident resolution and service requests. It should also be the entry point and single point of contact for the service provider with all of its users."
Incident management – in addition to the traditional related best practice, self-service is called out as a resolution method and "swarming" is included (in the ITIL 4 Foundation book) as a tip: "Some organizations use a technique called swarming to help manage incidents. This involves many different stakeholders working together initially, until it becomes clear which of them is best placed to continue and which can move on to other tasks."
Service request management – an important piece of related advice here is that "Service requests and their fulfillment should be standardized and automated to the greatest degree possible."
But there are many other ITIL 4 management practices that will likely enable or touch your IT support activities. These include: General management practices
Continual improvement – formerly known as continual service improvement (CSI) in ITIL v3, the name change is to better reflect that improvements can relate to operational practices and other attributes of IT service delivery and support as much as the IT services themselves.
Information security management – which now includes ITIL v3's access management
Knowledge management – which is so far relatively unchanged in ITIL, but it's definitely good to see knowledge management being called a practice rather than a process now
Measurement and reporting – which is new in ITIL 4, and will provide much-needed advice for many on what's a perennial ITSM hot topic. Importantly, ITIL now provides central performance measurement advice rather than offering a separate section for each practice. For example, the Foundation book advises that "a good report or dashboard should answer two main questions: how far are we from our targets and what bottlenecks prevent us from achieving better results?"
Relationship management – which replaces ITIL v3's business relationship management
Supplier management – ITIL 4 extends the scope of ITIL v3 to now include service integration and management (SIAM) scenarios and requirements
Workforce and talent management – which is new in ITIL 4, with it great to see a focus on our people. Service management practices
Change control – which was called change management in previous versions of ITIL
IT asset management – which was hidden within service asset and configuration management in ITIL v3
Monitoring and event management – which was previously known as event management
Problem management – it's a vital enabler to better incident management and is so far relatively unchanged versus ITIL v3. There are of course other ITIL 4 practices that might be relevant to your IT support operations, but hopefully the above list is enough to get you thinking about the potential opportunities to improve upon where your IT service desk (or IT help desk) is now. So, that's a quick overview of how ITIL 4 has impacted IT support best practices. What is missing? What would you add? Please let me know in the comments.